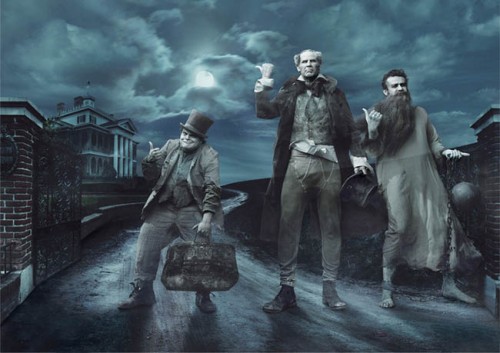 Disney has revealed more of how much work goes into the Disney Dream Portrait series as crafted by Annie Leibovitz. It's not just the photographer and the subjects, there is a whole team lined up to make it work. The photo shoot for the Haunted Mansion inspired Hitchhiking Ghosts took place in March at the Tejon Ranch near Lebec, California. Jack Black, Will Ferrell and Jason Segel went under the lens of photographer Annie Leibovitz as she captured the iconic moment from the attraction.
A new video places you on the set and in the makeup trailer where you will discover just why these grim ghosts are grinning so much.
Looks like they had a ton of fun!
Previously: Behind the scenes of Annie Leibovitz' Latest shoot.
Video: On Set of Annie Liebovitz Haunted Mansion Disney Dream Portrait Shoot originally posted on
The Disney Blog – Disney News and Information — by fans, for fans . If you're reading this on a different site, please click the above link to read the original story. Thank you.

(from The Disney Blog http://thedisneyblog.com/2012/08/02/video-on-set-of-annie-liebovitz-haunted-mansion-disney-dream-portrait-shoot/)